Dimensions:
Length: 78"
Depth: 36"
Height: 34"
CLEARANCE PRICE - 2 LEFT
Also available in various custom fabrics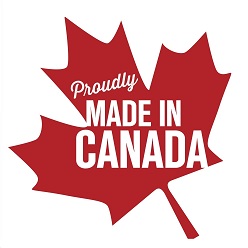 Proudly manufactured right here in Canada, the Nora Fabric Sofa is a 2-cushion wide-armed pleaser with classic appeal peppered in postmodern design sensibilities. Beautifully upholstered in a charcoal fabric, it's wider than it is tall, making it a comfortable and functional piece that's sure to please.
Charcoal is a neutral colour so it can be a hugely accommodating hue - but it's also punchy, and crisp, offering drama and depth to a room in ways that classic black furniture can't; it won't end up looking like a bachelor pad, and adds a sense of sophistication. Charcoal pairs particularly well with bright white trim and most wood floors.
It's also a good fit for those looking to accentuate architectural highlights, like crown molding or other subtle touches. As charcoal has a hint of brown to it, it's actually a warm grey, meaning it can help to warm up postmodern spaces unlike cold greys that use white to boost their visual appeal.